BENGALURU: Wipro's modest performance last year has resulted in a big pay cut for chairman Rishad Premji. According to the company's annual report for the year that was released on Thursday, Premji took home $951,353 during the year, almost 50% lower than the $1.8 million he drew the year before.
His salary included a basic component of $861,620, long-term benefits of $74,343, and other allowances of $15,390. He received no commission. Premji is entitled to a commission at the rate of 0.35% on incremental consolidated net profit of Wipro over the previous fiscal year. However, the report said, since incremental consolidated net profit for the year was negative, no commission was payable to him. CEO Thierry Delaporte's salary dropped marginally to $10 million in FY23, from $10.5 million in FY22.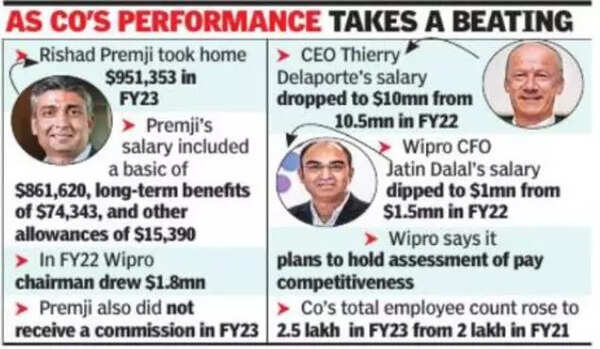 Recently, Cognizant's filings had shown that the salary of its former CEO Brian Humphries dropped 9% to $17.9 million in 2023, from $19.6 million in the previous year. His non-equity based incentives also dropped from $4 million to $1.7 million. Wipro's and Cognizant's performances last year were among the weakest in their peer group.
Wipro CFO Jatin Dalal's salary also came down marginally from $1.5 million in FY22 to $1 million in FY23. The annual report said one of the key areas it has invested in is talent.