NEW DELHI: The war against inflation has to continue until the central bank sees a durable decline in it closer to the target, RBI governor Shaktikanta Das said on Thursday.
Das also asserted the central bank was confident that it is on the right track to bring down inflation to the target rate over the medium term.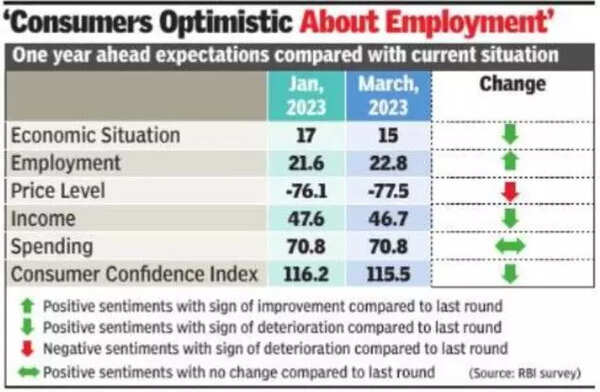 "Inflation has softened from its elevated levels a year ago, however, it still remains above the upper tolerance band. Projections for 2023-24 point to a softening in inflation, though the disinflation is likely to be gradual and protracted, given the rigidity in core or underlying inflation pressures," Das said in his monetary policy statement. Retail inflation has stayed above the RBI's comfort levels at 6.4% in February. "At this stage, we remain watchful of the evolving outlook and the impact of our actions during the past one year on the broader real economy," the governor said.
He said assuming an annual average crude oil price (Indian basket) of $85 per barrel and a normal monsoon, CPI inflation is projected to moderate to 5.2% for 2023-24, with Q1 at 5.1%, Q2 at 5.4%, Q3 at 5.4%, and Q4 at 5.2% with the risks evenly balanced. Das said looking ahead, the expectation of a record rabi harvest bodes well for easing of food price pressures and there is already evidence of a correction in wheat prices in March on supply side interventions.
He said impact of recent unseasonal rains in some parts of India, however, needs to be watched and global commodity prices have moderated significantly from their heightened levels a year ago. Das said the RBI's surveys pointed out that cost conditions have somewhat eased and inflation expectations of households have also edged down.
"On the upside, adverse climatic conditions are a risk to the future inflation trajectory. Milk prices are also likely to remain firm going into the summer season due to tight demand-supply balance and fodder cost pressures. The rising uncertainty in international financial markets and imported inflation pressures need to be monitored closely," said the RBI governor.
Stating that economic activity remains resilient, the governor said economy is expected to record a growth of 7% in FY23. The RBI marginally raised the GDP growth forecast for the current fiscal year to 6.5% from 6.4%.
He said the higher rabi production has brightened the prospects for the agriculture sector and rural demand and the steady growth in contact-intensive services should be positive for urban demand.