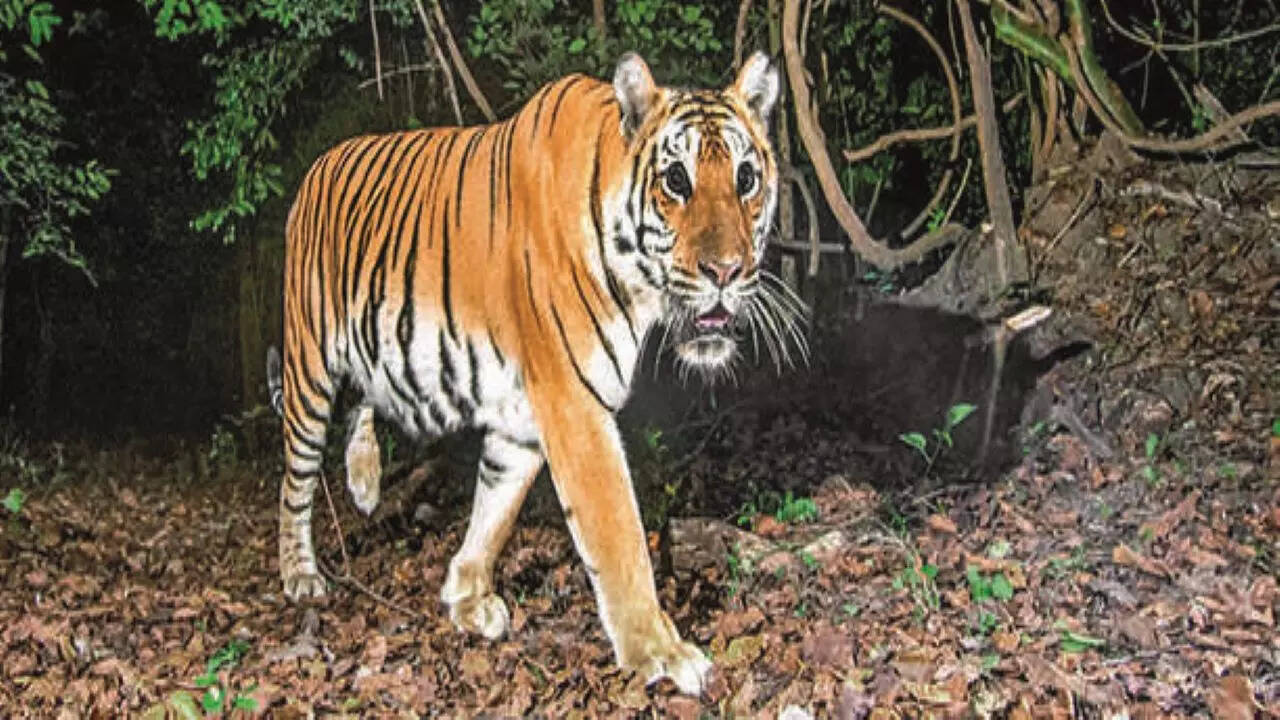 For over five decades, K Ullas Karanth, well-known conservation scientist based at the Centre for Wildlife Studies (CWS) in Karnataka, has been engaged in the struggle to conserve tigers. Karanth pioneered radio-tracking as well as scientific use of camera traps to study tigers in the 1990s. TOI talked to him about tiger conservation issues on completion of 50 years to Project Tiger.
Excerpts. . .
●
From just 9 tiger reserves in 1973 to 53 today, Project Tiger has come a long way. Your views?
Project Tiger was a globally unique pioneering initiative, which used an ecologically fragile but culturally iconic species as a tool to save large landscapes harbouring a wide range of biodiversity. Its real goal was to save thousands of other species also, under the tiger umbrella. Although only nine reserves were chosen first, they were very biodiverse areas, ranging from tropical rainforests, deciduous forests of multiple types, mangrove swamps and alluvial grasslands. Project Tiger also took over forest areas that were ravaged and subsequently recovered them. The first set of reserve directors were extraordinarily capable men, like Hemendra Panwar, Sanjoy Debroy, Saroj Choudhury, DG Wesley and others. Kailash Sankhala led the project with verve and passion, and above all then Prime Minister Indira Gandhi was its moving spirit at the top. The team spirit and mission focus lasted until 2004, when the UPA government's poorly conceived tiger taskforce turned it all into a massive, inefficient bureaucracy, which failed to retain the original spirit.
● Isn't India holding 70% of the world's tigers an achievement?
There is no doubt that India has put in more effort and accomplished more compared to other nations that began tiger recovery efforts in the early 1970s, or later. Other than Nepal in the past and Thailand more recently, the record of other countries in tiger recovery has been poor. Some like Cambodia, Vietnam, and Laos have lost all their tigers. However, when you consider that we have 3,80,000 sq km of tiger habitat, which can potentially harbour 10,000 to 15,000 tigers, and we have only 3,000 after 50 years. In this backdrop, our achievement does not look that great. From an original population of about 2,000 tigers, this translates to an annual growth rate of less than 1%. Compared to our achievements in other fields, the tiger population growth rate is nothing to brag about.
●
What are the succes ses and failures of the Project Tiger?
The success, achieved in the first 30 years, was to establish a set of well-protected reserves where tiger populations are thriving. Its failure is that two-thirds more such areas, where the same could have been achieved, were neglected. The failures include, firstly, not implementing voluntary relocation schemes for villages in sites where people sought help. Secondly, constraining good science and independent monitoring by turning these activities into a government monopoly as well as misapplication of vast sums of money, which should have been invested better, particularly after 2005.
● Tell us about different trends in the
tiger population in the country.
Overall, in the parts of Western Ghats in Karnataka,
Tamil Nadu
and Kerala, and the central Indian regions of Tadoba, Melghat, Pench, Kanha and Bandhavgarh, as well as in alluvial grasslands of Corbett, Dudhwa, and Kaziranga, tiger populations are thriving. But in far more expansive areas of tiger habitats in Chhattisgarh, Odisha, Jharkhand and the north-eastern states, the status of tigers remains precarious, and threatened by hunting.
●
Even after 50 years, what are the challenges facing tiger conservation?
Rapid economic development, and generally increased prosperity have generated more resources for improving tiger protection, for freeing up habitats through voluntary relocations, land acquisitions, and even for expanding habitats by properly directing and leveraging the economic power of tiger tourism. We need to cut through the red tape and rely on public-private partnerships. The government's role should shrink to law enforcement, protection, and conflict mitigation.
●
Can development and tiger conservation go hand-in-hand?
Very much so. However, not in the same place at the same time. We should sustainably manage landscapes by strictly protecting areasmeant for tiger and wildlife conservation, and concentrating focused development in other areas. After all, we are talking about less than 10% of India's land area — up from 4% — for conservation which still leaves 90% mostly for development. We should apply technological solutions to 'decouple' extractive human uses from tiger habitats. Farmed meat and proteins as opposed to hunted wild meat, energy from nuclear power instead of coal, mechanised transport instead of livestock for traction and tillage are examples of decoupling already underway.
●
But with the advent of people-centric policies and projects, will we be able to save tigers and their habitats for future generations?
If these 'people-centric policies' aim to improve economic and social development in places outside the protected natural areas and tiger habitats, that can help in taking pressure off. The problem comes when we try to do development and conservation in the same areas. Neither wildlife nor people benefit when cattle are reared amidst tiger populations.
●
You introduced camera-trapping methodology, any other science-based research for perfect estimation of tigers in the future?
In the 1980s, I applied statistically robust line transect surveys for estimating prey base. In the early 1990s, I developed methods for capturing and sedating free-ranging tigers for radio-collaring them. In the mid1990s, I developed camera-trap surveys that went beyond mere photography to apply sophisticated capture-recapture statistical models to estimate tiger numbers, survival rates etc. In 2006, I developed a rigorous, cost-effective method called occupancy sampling of animal signs (tracks, droppings) for accurately measuring distributions of tigers and other species. All these methods have been codified and published and are freely available. Apart from a few researchers, the overall response of the government has been poor. In contrast, Thailand government and universities there have adapted these methods and are generating good results and publishing them in top journals.
●
Why local villagers don't want tigers? How can we motivate them to save big cats?
Villagers often do not want tigers because of the problem caused by a few individuals. There are a number of possible solutions — voluntary relocation of villages in deep forests to separate tigers from livestock and people. Promptly paying adequate compensation in the case of livestock kills is another. With man-eaters, immediately killing such animals is the only solution. Moving tigers from one location to another increases such conflicts and should be avoided except in special circumstances. Releasing captive-bred tigers usually leads to conflict and even man-eating. Lastly, around locations where tiger tourism is bringing in a lot of money, creating stakeholders like homestays, local guides, safari vehicles and drivers, all of whom will benefit and create a lot of goodwill. I am happy that some states like Maharashtra, Madhya Pradesh and Uttarakhand are doing a good job. Other laggard states, which are quite wealthy, like Karnataka, Tamil Nadu, Andhra Pradesh, and Telangana, should follow these examples.