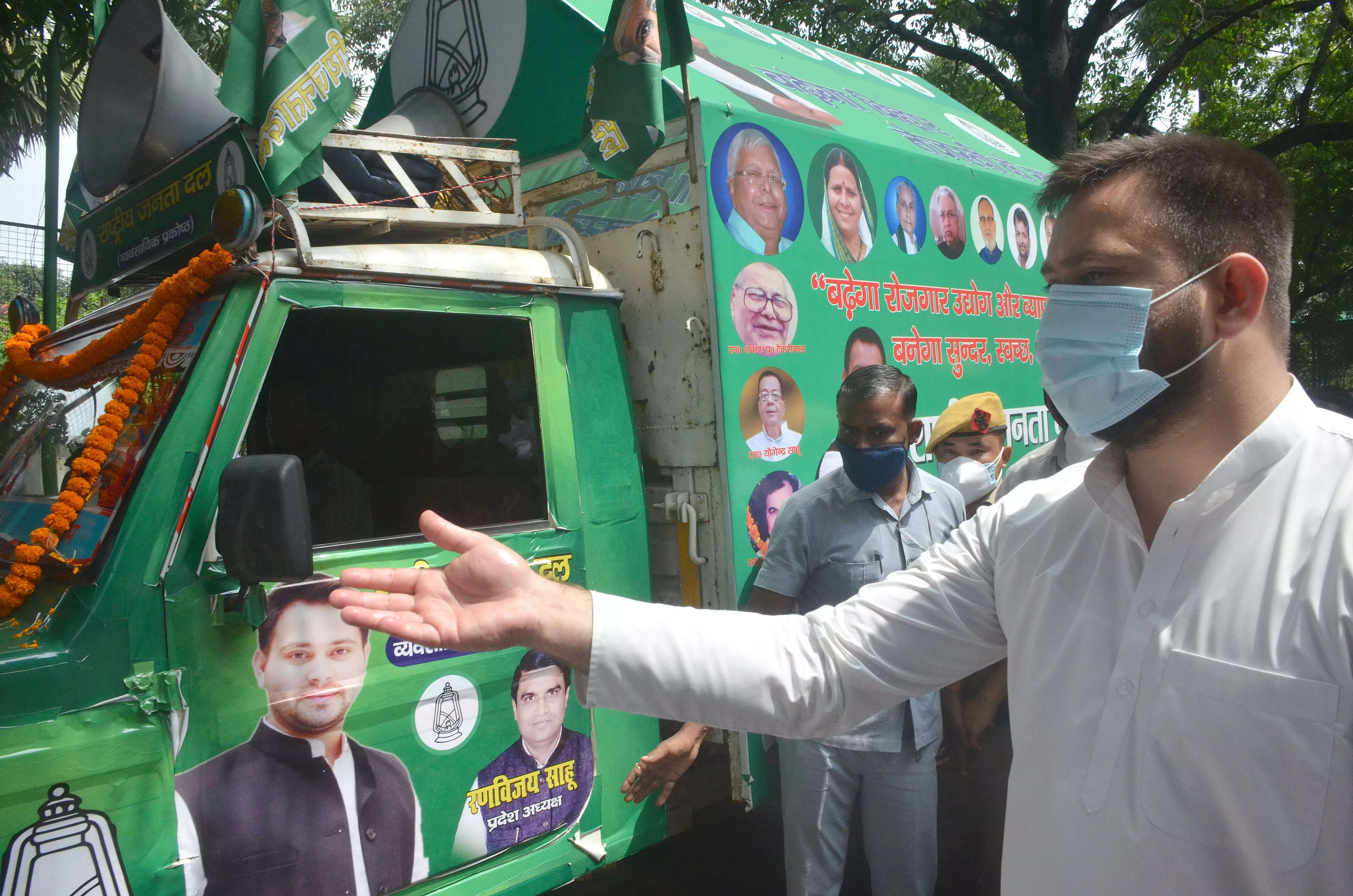 PATNA: Taking a swipe at
Bihar
deputy chief minister Tejashwi Yadav, political analyst Prashant Kishor on Tuesday said that Tejashwi, who had promised 10 lakh jobs, would not have got a job himself had he not been the son of Rashtriya Janata Dal (RJD) supremo Lalu Prasad.
Addressing Jan Suraj Yatra, Kishor said, "Tejashwi Yadav talked about providing 10 lakh jobs in the first cabinet meeting itself … Everyone knows he cannot give 10 lakh jobs. If he was not Lalu ji's son, he would not have got a job. Then, how can he give a job to others?"
He said Tejashwi should apologize for his lie about providing jobs.
On Bihar chief minister Nitish Kumar meeting several opposition leaders for the 2024 election, Prashant Kishor cited the example of former Andhra Pradesh chief minister N Chandrababu Naidu's attempt to unify the opposition in 2019 elections.
"Nitish Kumar has 'langdi sarkaar' and he must worry about Bihar. The party which has 'zero' MP is deciding upon the PM of the country. His party has no hold and now he is trying to unite other parties," added Kishor.
In a bid to achieve opposition unity before the 2024 Lok Sabha elections, Nitish Kumar and Tejashwi Yadav met Samajwadi Party chief Akhilesh Yadav in Lucknow on Monday.
Nitish, who is meeting various opposition leaders in an attempt to bring all of them on a single platform, said that whatever the next step of the parties be, will be in the country's interest.
"We have held talks, especially about the coming together of all parties and making all preparations ahead of the upcoming Parliament elections. Whatever will be done next, will be done in the nation's interest," Nitish Kumar said.
Earlier on Monday, Bihar chief minister also met his West Bengal counterpart Mamata Banerjee in Kolkata.
After meeting Banerjee, Nitish Kumar said, "Whatever will be done next, will be done in the nation's interest. Those who are ruling now, have nothing to do. They are just doing their own publicity. Nothing is being done for the nation's development."
Trinamool Congress (TMC) supremo Mamata Banerjee also pitched for opposition unity while calling for an opposition meeting in Bihar, the land of the JP movement.
"We will go ahead together. We have no personal ego, we want to work together collectively. I have made just one request to Nitish Kumar. Jayaprakash (Narayan) ji's movement started from Bihar," CM Mamata said.
"If we have an all-party meeting in Bihar, we can decide where to go next. But first of all, we must convey that we are united. I have said earlier too that I have no objections. I want BJP to become zero. They have become a big hero with the media's support and lies," Mamata added.
Earlier on April 12, Nitish Kumar had met with Congress national president Mallikarjun Kharge and former MP Rahul Gandhi in the national capital.
CM Mamata Banerjee is also leaving no stone unturned in closing in ranks with other parties ahead of the 2024 polls, as she met Samajwadi Party chief Akhilesh Yadav at her residence in Kolkata last month.
Notably, Nitish Kumar's Janata Dal-United (JDU) and Rashtriya Janata Dal (RJD) together constitute a majority in the 243-member state assembly. JD(U) has 45 and the RJD has 79 MLAs. They also have the support of smaller parties like Jitan Manjhi's Hindustani Awam Morcha (HAM). The BJP has 77 MLAs in the state assembly.
Nitish Kumar on August 9, 2022, broke his alliance with the Bharatiya Janata Party (BJP) following a meeting of JD(U) leaders and legislators. He then sought time from Governor Phagu Chauhan and tendered his resignation.
In 2020, the BJP-JD(U) fought the election in an alliance and went on to form the government with Nitish Kumar being given the chief minister's post.
In less than two years' time, Nitish Kumar flipped his choices and in a surprise move went on to stitch an alliance with the RJD and the Congress to form a 'Grand Alliance' government in Bihar.