BENGALURU: In the largest deal in the
Indian
healthcare space, Singapore's sovereign wealth fund Temasek Holdings has bought a majority stake in Bengaluru-based Manipal Health Enterprises for over $2 billion.
Manipal Health Enterprises runs India's second-biggest hospital chain, Manipal Hospitals, with 29 hospitals across 16 cities. Apollo is the country's biggest chain.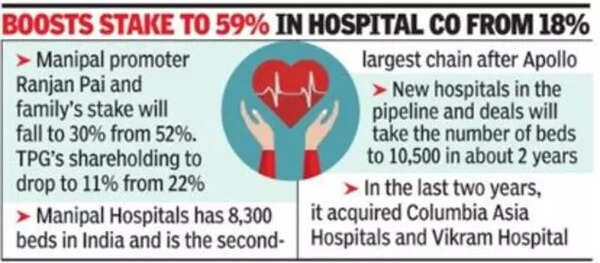 Temasek-owned Sheares Healthcare, which already owned 18% in Manipal, has bought an additional 41% stake from the promoter group, Dr Ranjan Pai & family, and other existing investors, taking its stake to 59%. The deal values the company at $5 billion, sources told TOI. The transaction is awaiting the competition commission's approval.
After the transaction, Dr Ranjan Pai and his family's stake will drop to 30% from 52%, while existing investor TPG's shareholding will fall to 11% from 22%, the sources said. Two years ago, National Investment and Infrastructure Fund (NIIFL) had invested Rs 2,100 crore in Manipal Hospitals, picking up a 9% stake. Sources said NIIF is selling its entire stake in the deal.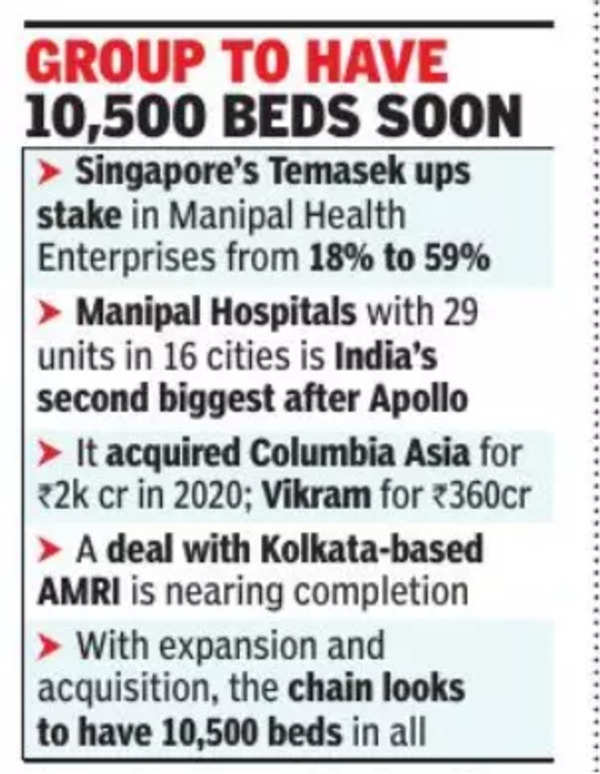 When TOI contacted Temasek, its spokesperson said, "As a matter of policy, Temasek does not comment on market speculation." Manipal Health Enterprises said it doesn't have any comment to offer.
Billionaire Ranjan Pai has massively expanded the business his grandfather, T M A Pai, started in 1953 in the fields of education and healthcare. He's done some aggressive acquisitions, and he's infused external capital. Manipal acquired Columbia Asia Hospitals for over Rs 2,000 crore in 2020. The following year it acquired Vikram Hospital from Multiples Private Equity Fund in a deal valued at Rs 360 crore. A deal to acquire Kolkata-based AMRI (Advanced Medical Research Institute) is said to be almost complete.
The hospital chain has 8,300 beds across India and, with three greenfield projects in the works – two in Bengaluru and one in Raipur, that number will go up to 9,200. The two hospitals in Bengaluru are expected to be completed over the next 18 months. The AMRI deal will add another 1,300 beds. This will take the number of beds to 10,500.
Under Pai's leadership, the group has also started Stempeutics, a stem cell therapeutics company, which is involved in developing therapeutics from both embryonic as well as adult stem cells.
The Manipal Group is also currently expanding the education business in a big way. While Manipal University in Mangaluru remains the flagship project, the group is now building a massive campus in Bengaluru that also hosts the popular Srishti Institute of Art Design and Technology which Manipal acquired in 2020. The partial exit from healthcare looks to be an effort to focus more on education.