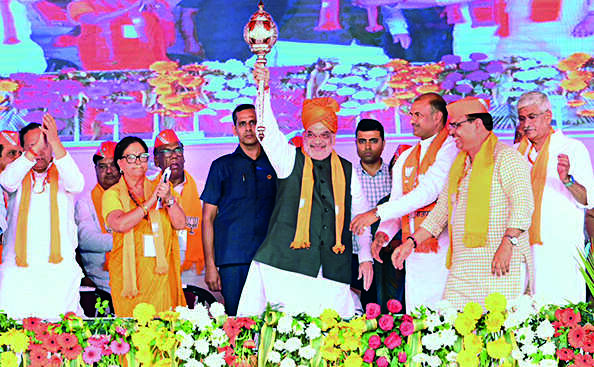 JAIPUR: Union home minister Amit Shah took a potshot at Congress on Saturday over infighting in its Rajasthan unit, telling
BJP
workers in Bharatpur division that Congress prefers chief minister Ashok Gehlot over his former deputy, Sachin Pilot, as his contribution to filling its coffers with "corruption" money from the state is higher.
"Gehlot-ji is saying that I do not want to step down and Pilot-ji is saying that I want to be in the chair. They are fighting unnecessarily because the government is to be formed by BJP (after assembly elections later this year)," Shah said.
"Pilot sits on dharna on any pretext… his contribution may be higher on the ground, but his number will not come because his contribution to filling the coffers of Congress party is less and Gehlot's contribution is higher," said Shah
The BJP leader also exuded confidence about the Lok Sabha polls. "Gehlot-ji, hear it out loud: BJP will win the state's 25 Lok Sabha seats as well for the third time (in a row)," he said.
"Gehlot has looted the state and this money of corruption has been deposited in the coffers of the Congress party. It is a 3-D government in Rajasthan – the three Ds stands for dange (riots), durvyavhar (ill-treatment) with women and Dalit atrocities," Shah said.
Recalling the recent acquittal of the accused in the 2008 Jaipur bomb blast case, Shah alleged the Congress government was practising vote-bank politics on the deaths of blast victims. "Our (previous) government, led by Vasundhra Raje, actively pursued the case and arrested the people. However, the Congress government did not present proper arguments in the high court due to vote-bank politics," Shah said.
Targeting Rahul Gandhi's "Bharat Jodo Yatra", Shah said the grand old party had been swept out of three northeast states in recent elections.
Shah was in Bharatpur to motivate party workers as BJP had faced a crushing defeat in this division – comprising Bharatpur, Karauli, Sawai Madhopur and Dholpur districts – in the 2018 assembly elections. Besides senior BJP politicians, booth workers and presidents of all four districts attended the meeting at the Bharatpur college ground. BJP claimed more than 25,000 workers from 700 booths in the division attended the event.