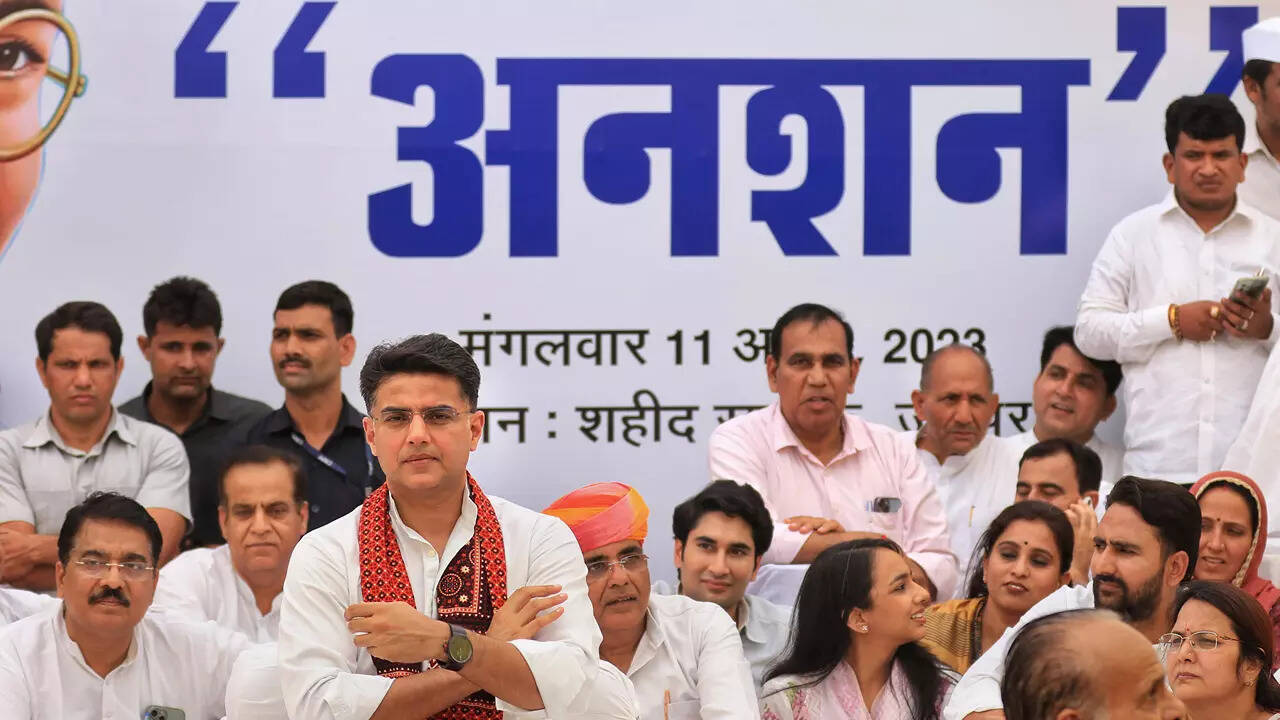 RAIPUR: Chhattisgarh Congress leader TS Singh Deo has come out in support of
Sachin Pilot
who is on a day-long fast seeking probe against corruption during the previous BJP government in the state.
Singh Deo said that former Rajasthan deputy chief minister Sachin Pilot's action was not against the
Ashok Gehlot
government but against the BJP government led by previous chief minister Vasundhara Raje.
Deo had a day ago told ANI, "I think Sachin Pilot is aware that during elections, he would be answerable for corruption in Vasundhara Raje's government and that the charges would be investigated. In such a situation, Pilot is revolting against the Ashok Gehlot government and is raising his voice so that an inquiry is launched against Raje."
Assembly polls in Rajasthan are due to be held late this year.
Pilot, a former Union minister, paid floral tributes to social reformer Mahatma Jyotiba Phule before embarking on his fast today.
The Congress had a day ago stated that Pilot's fast is against the party interests and is anti-party activity. "If there is any issue with his own government, it can be discussed in the party forums instead of in the media and public," AICC incharge of Rajasthan Sukhjinder Singh Randhawa said yesterday.
BJP leader Rajendra Rathore today said the protest by the Congress against his own government would prove to be the last nail in the coffin of the incumbent Congress government in Rajasthan.
Speaking to ANI, Rathore said, "Sachin Pilot has thrown an open challenge to his party high command. Congress has lost its hold across the country."
"The Congress has been rendered weak across the country and its high command survived a significant leadership challenge in Rajasthan and is facing another. The first challenge was when Congress MLAs loyal to chief minister Ashok Gehlot held a separate meeting (amid the high command's bid to install Pilot as CM last year). And the latest challenge before the high command is the ongoing fast by Sachin Pilot," he added.
He added, "The Congress high command has become weak in the whole country and faces two significant challenges in Rajasthan. The first challenge was given by chief minister Ashok Gehlot's faction boycotting a Congress Legislature Party (CLP) meeting on September 25. The second challenge is through Sachin Pilot's fast."
Responding to the allegations of scams by Pilot during the tenure of the former chief minister Vasundhara Raje's government, leader of opposition Rathore said, " I was also a part of that government, but why did Sachin Pilot not raise this matter in the budget session of Rajasthan Legislative Assembly till now. Why didn't he raise the matter in the cabinet meeting when he was also the deputy chief minister in the government and why is he raising this matter now before a few months left for elections?"