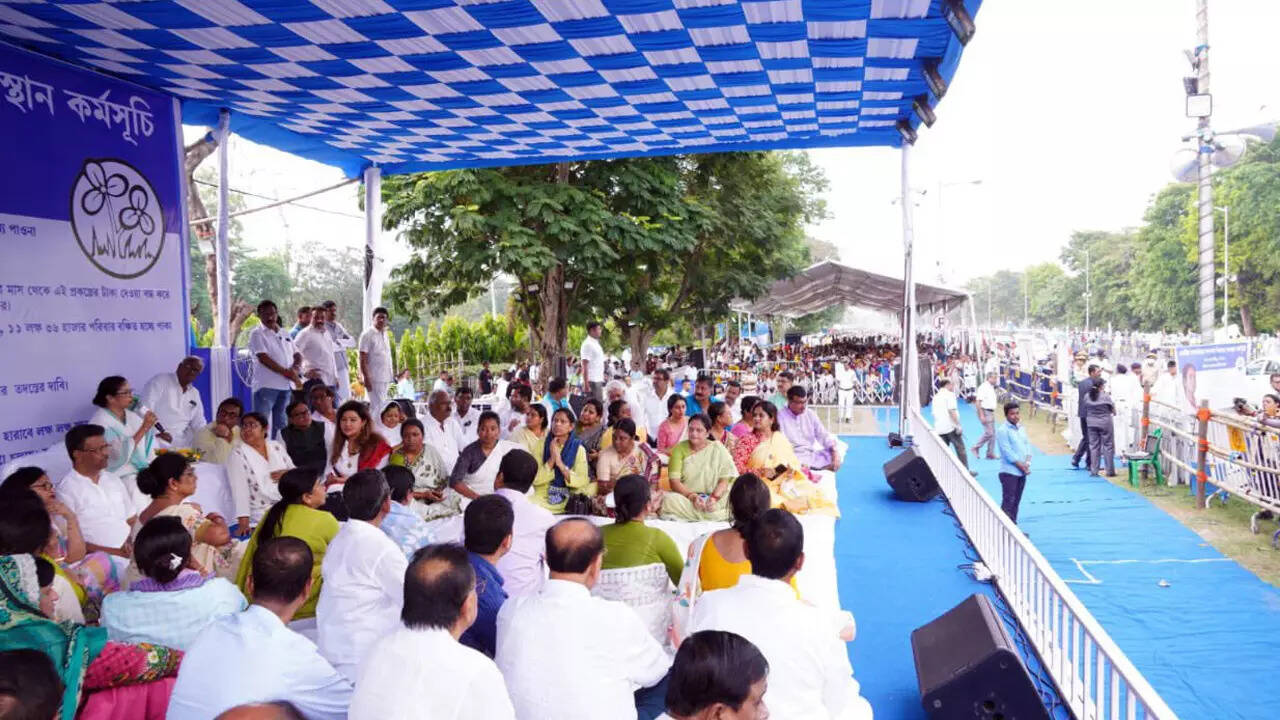 NEW DELHI: Training his guns at West Bengal chief minister Mamata Banerjee over the violence in the state during Ram Navami celebrations, senior advocate and BJP MP Mahesh Jethmalani on Tuesday said of all the 'pseudo-secular' parties, the "most dangerously communal" is was the Banerjee led
Trinamool Congress
.
Jethmalani alleged that the loss of the Sagardighi assembly bypoll spurred Mamata to incite violence against Hindus during Ram Navami.
"Of all the pseudo-secular parties the most dangerously communal is the #MamataBanerjee-led TMC. Not chastened by the SC transfer to the CBI of the horrendous post-poll violence cases, the mere loss of the Sagardighi assembly bypoll spurred Mamata to incite violence against Hindus during #RamNavami akin to her call to violence against BJP supporters after the 2021 Assembly," tweeted the senior advocate.
The Rajya Sabha MP said the main cause of violence in the state is CM Banerjee's "mollycoddling the Muslim vote bank".
"The BJP were not provocateurs on Ram Navami: Mamata's ruthless quest to cling to power by mollycoddling her Muslim vote Bank to any extent is the root cause of the continuing mayhem in W.Bengal. Pity the State," he tweeted.
The remark comes on the heels of a fresh incident of stone-pelting in the Rishra town of Hooghly district on Monday evening, which forced Eastern Railway to suspend all local and mail express train services operating to and from Rishra railway station.
Earlier, reacting to the violence in West Bengal, leader of opposition in the state legislative assembly and BJP leader, Suvendu Adhikari, alleged that while Rishra was burning, the entire state administration is enjoying a beach holiday in 'Digha'.
Taking to Twitter, the BJP leader said, "Stone pelting & bombing near Rishra Railway Station forced suspension of local & express train services on the Howrah-Bardhaman Line."
"After RPF's action train services now have been restored. Rishra is burning and the entire State Administration is enjoying a beach holiday in Digha," he said further in his tweet.
The chief public relations officer of Eastern Railway, Kaushik Miron, said an incident of stone pelting took place at Rishra railway station. Police and rapid action force (RAF) were also deployed in the area to prevent any untoward incidents, he added.
The fresh violence came a day after clashes erupted during the BJP's march in Hooghly on Sunday. The state government later issued prohibitory orders and also suspended internet services across the district.
Earlier, on Thursday, several vehicles were set on fire after two groups clashed in Howrah amid Ram Navami celebrations. During the procession, rioters vandalised public and private properties while setting vehicles on fire.
Following the violence in Howrah during the Ram Navami celebrations, the West Bengal government on Friday handed over the probe to Criminal Investigation Department (CID). A special team led by Inspector General of Police, CID, Sunil Choudhury has initiated an investigation.