Meta, the parent company of Facebook and Instagram, has opened the waitlist for Meta Verified, the company's subscription plan for two of its most-popular social media apps on Instagram. Meta Verified was introduced back in February 2022.
Announcing Meta Verified in February, Mark Zuckerberg wrote on his Instagram Channel, "This week we're starting to roll out Meta Verified — a subscription service that lets you verify your account with a government ID, get a blue badge, get extra impersonation protection against accounts claiming to be you, and get direct access to customer support."
How much does Meta Verified costs in India
Meta Verified in India is priced at Rs 1,099 per month if you subscribe through the web. On Android and iOS apps, subscribing to Meta Verified will set you back Rs 1,450 a month.
What Meta Verified badge offers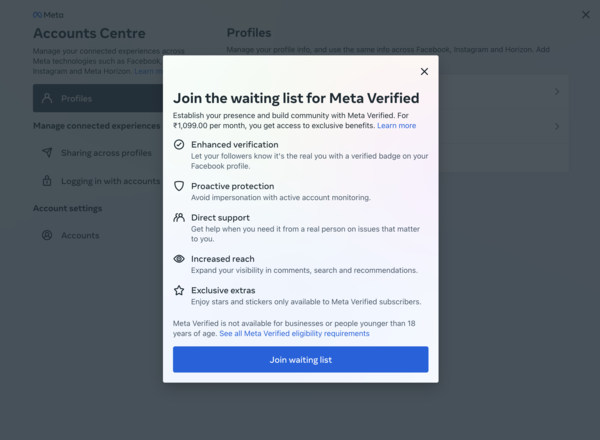 Meta Verified "is about increasing authenticity and security across our services," said Zuckerberg.
Subscribing to Meta Verified entitles you to a verified badge. Meta will protect your account to prevent impersonation attempts. This means that your impersonators will constantly be monitoring your account. Additionally, subscribers will have access to real customer support instead of a bot. If you can't see a user's profile picture, you will know who to contact for assistance.
Moreover, the company claims that paying the monthly fees will increase your visibility and expand your reach. This will result in your content appearing more frequently in people's feeds, search results, and comments. Additionally, new users who sign up will receive exclusive stickers and 100 free stars each month, the digital currency used on Meta.
How to subscribe to Meta Verified
As of now, users can join in the waitlist to subscribe to the Meta Verified. Once approved, users should be notified to subscribe to Meta Verified.
To qualify for a Meta Verified subscription, a few requirements need to be met:
You must have prior experience using Facebook or Instagram, with a few posts to show.
You must be at least 18 years of age.
Applicants must provide a government-issued ID displaying their name and photo, matching the name and photo on their Facebook or Instagram account.