Jos Buttler
required multiple stiches after suffering a finger injury in
Rajasthan Royals' match against Punjab Kings
on Wednesday and is likely to miss RR's next game against Delhi Capitals.
The Royals host Delhi in Guwahati on April 8.
Buttler required multiple stitches on the little finger of his left hand, which prevented him from opening the innings in Rajasthan's five-run defeat against Punjab.
Ravichandran Ashwin was promoted as an opener as Buttler, who injured his finger while taking a catch to dismiss Punjab batter Shahrukh Khan, was getting stitches on his finger.
Buttler ran from deep and took a sliding catch off Jason Holder's bowling in the last over but immediately looked in pain as he left the field with a couple of balls still remaining.
"Jos was not fit. He was getting stitches for his finger after the catch," skipper Sanju Samson said during post-match presentation ceremony.
In fact, Buttler, who got a sponsor's award for the best catch, came to collect his cheque with a distinct white strapping on his little finger.
The finger will certainly be sore and fielding could be an issue and hence Royals medical staff might just want to give him rest for a game or two with next match to be played within 72 hours.
Shikhar Dhawan, who has been marshalling the Punjab Kings unit really well, did confess that he was nervous when Shimron Hetmyer and Dhruv Jurel took the game to the wire.
"There were some nervous moments but I was keeping my calm and the same with the bowlers. There was a lot of dew. The bowlers did a great job. I was happy with the score we put up. They bowled well and bowled very good yorkers," he praised Sam Curran's death bowling.
Getting early wickets in Powerplay also helped, the skipper said.
"Scoring 197 and then my bowlers coming and getting early wickets and keeping the pressure on and then Nathan came on and got wickets. We never let the game get out of our hands. There were some moments that were hard but I think it was a great team effort."
Having scored 86 off 56 balls at a strike-rate of 153 plus, Dhawan seemed happy with his batting.
"These two matches, we've gotten a great start playing well and I'm doing my best to increase my strike rate. The wicket brings momentum back quickly. This year we have a deep batting line-up so we keep momentum going hitting boundaries and put pressure on the other team."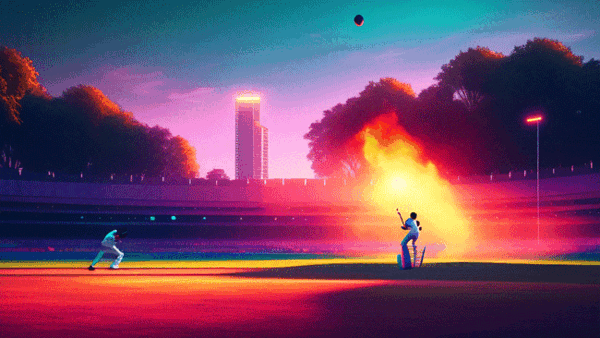 (AI image)
For Sam Curran, the primary objective was to nail the yorkers.
"I think when it comes to those situations, you know if you nail your yorker, you'll be okay. Some days it works and some days it won't but luckily it was our day," said Curran, who has USD 2 million plus contract.
"I was trying to get our ball changed because it was like soap. I don't really understand why they got their ball changed but we can't do anything about it," Curran said about the dew.
The biggest challenge is bowling with wet ball, said Curran.
"It's amazingly hard. You try to train by dipping balls in water. It's incredibly hard to hold the seam. You try to bowl cross seam but it's not a natural ball to bowl a yorker cross seam. It's extremely tough but everyone has to do it so there's no real complaining.
"We just have to keep getting better because the batters are getting better, the bowlers are getting better and that's why this tournament is the best in the world."
Punjab Kings next travel to Hyderabad to take on the Sunrisers on April 9.
(With agency inputs)