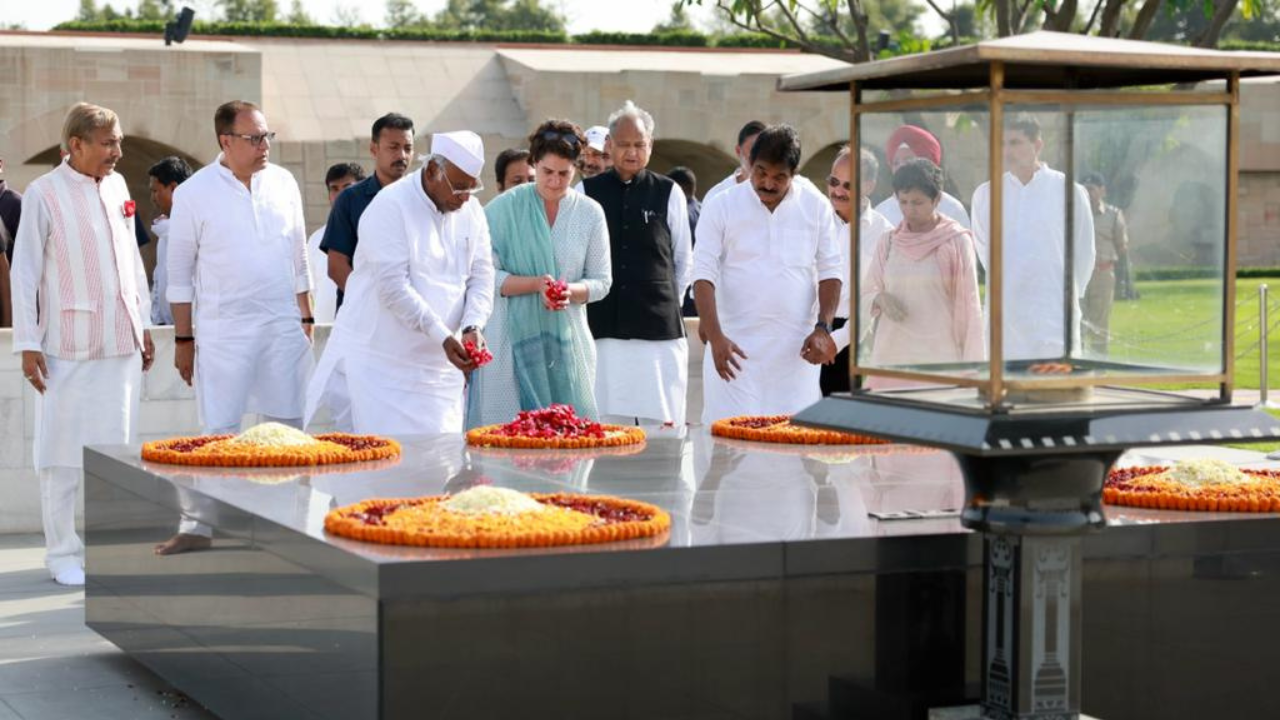 NEW DELHI: Congress on Sunday put up a strident defence of its leader Rahul Gandhi for his disqualification from Lok Sabha, holding a day-long 'Sankalp Satyagrah' at Rajghat despite the Delhi Police's prohibition orders and asserted that the vindictive action was to silence Gandhi from speaking the truth.
Taking turns to accuse Prime Minister Narendra Modi and the ruling BJP of running "scared" of Rahul's persistent questioning of Modi's "relationship" with Adani and using the OBC card to deflect attention from the main issue, Priyanka Gandhi called the PM a "coward", while party president Mallikarjun Kharge and Rajasthan CM Ashok Gehlot asked which of the fugitives — Nirav Modi, Lalit Modi or Mehul Choksi — are OBCs.
"File a case against me and put me in jail too if you want, but the truth is that the prime minister of this country is a coward. He is an arrogant coward. He hides behind his power. But remember that there is a long tradition in our country that its people teach the arrogant king a lesson," Priyanka said, accusing BJP of being afraid of being "exposed".
She also rubbished BJP's diatribe against Congress for indulging in "dynastic politics" by invoking Hinduism and Lord Ram.
"BJP talks of 'Pariwarvaad'. I want to ask who was Lord Ram? Was he Pariwarvaadi, or were Pandavas Pariwarvaadi? Should we be ashamed because my family fought for the country? My family has nurtured the democracy of this country with their blood," she added.
Kharge, meanwhile, asserted that Rahul Gandhi has been taking up for the rights of common people in India and asked why the PM and BJP are panicking when Rahul asks questions about fugitives and those defrauding the Indian people.
Accusing the PM of using objectionable language against the Gandhi family and Congress, for which defamation cases should be filed against him, Kharge also alleged Modi of equating Indian people with "dogs". He was referring to the PM's remarks during a 2013 interview where he was asked if he regretted the violence during the Godhra riots.
"In Ahmedabad when thosands of people died, a journalist asked him if he was sad that so many people had died. He said he was not the driver, but while sitting in the passenger seat, if the car accidentally killed a dog, one feel sad. He called people dogs. And such a person is now talking about OBCs. Are Nirav Modi, Mehul Choksi, Lalit Modi OBCs? They have looted the country's money and fled. These are fugitives. Why does it hurt you when we call them out?", Kharge said.
Rajasthan chief minister Ashok Gehlot also stepped up to counter the BJP's claim that Congress was anti-OBC.
Asserting his own and Chhattisgarh CM Bhupesh Baghel's OBC roots, Gehlot said he was the lone representative of the Mali Saini community in the Rajasthan assembly and a three-time CM of Rajasthan, with the backing of the Gandhi family.
"In 2017, when the BJP was losing the Gujarat elections, Modi ji played the OBC card against the Congress. Again, BJP wants to run a campaign to mislead the OBCs. But despite being the sole member of my community, I have been made CM thrice. Baghel ji is also an OBC. What bigger message can there be for the OBC community? Who can claim to have done more for the OBC, SC and ST community than the Congress. Since the time of independence," Gehlot said.
Apart from the national capital, Congress workers also launched parallel Sankalp Satyagrah programmes across cities with workers protesting against the BJP action and courting arrest.