'Workload management' is the buzzword for India's players heading into another IPL season, especially with the World Test Championship final to follow soon after…
"I mean, it's all up to the franchises now," a disappointed
Rohit Sharma
had said after India were beaten in the third ODI by Australia in Chennai and lost the series 1-2. Rohit's answer was to a query about workload management of certain players and how the World Test Championship (WTC) final versus Australia, being so close to the concluding stages of the IPL, in what is also an ODI World Cup year, could alter things.
The WTC final is at the Oval from June 7. The IPL concludes on May 28. Head coach
Rahul Dravid
too has voiced concerns about the short turn-around time. 07:03
It's MS Dhoni vs Hardik Pandya in blockbuster IPL 2023 opener
The captain elaborated that the team management has given IPL teams guidelines about monitoring player workloads. However, the smile that followed and the apprehension in his tone would have quickly put to rest any doubts about whether the franchises will adhere to those requests.
Rohit, as India and Mumbai Indians skipper, is in the best position to comment. Despite MI being out of the playoffs race very early last year, Rohit, and the MI team management, chose to keep playing Jasprit Bumrah in every game, however inconsequential it might have seemed. Did that result in the star pacer breaking down three months later with a serious back injury?
Bumrah hasn't featured in a competitive game since last September. Having just had back surgery in New Zealand, it remains to be seen if Bumrah regains competitive match fitness for the 50-over World Cup. Rohit's response in Chennai was matter of fact, but also palpably vague. "The franchises own the players now, so we've given some indications, or borderline kind of thing, to the teams. But at the end of the day, it's up to the franchise and, most importantly, it's the players. They have to take care of their own body." 02:08
IPL recap: How Gujarat Titans won the 2022 title
Rohit also stressed that the players are all "adults". "If they feel it's getting a little too much, they can always talk about it and have a break in one or two games. I doubt if that will happen," he had added.
Having lost Bumrah for the WTC final already, India will have to be careful that their two other key pacers, Mohammed Shami and Mohammed Siraj – who will play in the IPL for champions Gujarat Titans (GT) and three-time finalists Royal Challengers Bangalore (RCB) respectively – remain fresh and injury-free.
Both had stellar tours of England in 2021, having enjoyed the conditions and the extra movement the Dukes ball offers.
In one of his interactions with the media, Rohit had said that six teams would be out of the playoffs race by May 21. For India and Siraj and Shami's sake, he will hope that Titans and RCB are two of those six teams.
Asked if any mandate to rest players and monitor workloads had been issued by the team or BCCI, a franchise official told TOI, "We haven't received any instructions from the BCCI yet."
Another support staff member, who is also a former India player, commented rather guardedly, "Let me find out what has been told and get back."
It is understood that unless a player is carrying an injury, no directions will be given to franchises as the National Cricket Academy (NCA) staff has already shared detailed workload plans.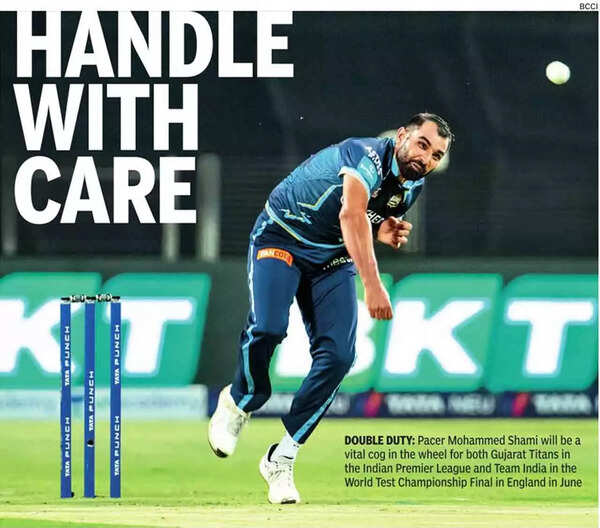 After India crashed out of the 2009 T20 World Cup in England, which followed a frenetic IPL that had been relocated to South Africa, head coach Gary Kirsten had blamed India's exit on IPL fatigue.
"Fatigue was definitely a factor, as were many other things," Kirsten had said. "I don't want to use that as an excuse, but it was a factor. We weren't an energetic team. We didn't get up to the same level on this tour. Maybe we'll have to pull guys out of some of the IPL matches. " He then quickly added, "I don't know how well that will go down."
He was promptly gagged by the board after that and was even given a rebuttal by Rajeev Shukla, the then BCCI media and finance committee chairman. "We are not forcing any player to play any series or tournament," Shukla had said.
That was 2009. It's 2023 now. Few things have changed.