MUMBAI: Death claims for insurance companies have shrunk with the waning of the pandemic.
Insurance behemoth
LIC
has seen its death claims drop by over one-third. The corporation paid Rs 560 crore for claims due to Covid deaths in FY23 as against Rs 2,112 crore in the previous year – an over 73% decline.
HDFC Life Insurance
saw death claims fall 28% to Rs 4,176 crore in FY23. ICICI Prudential Life Insurance's death claims dived 38% to Rs 3,461 crore in the same period, while SBI Life saw a 42% decline to Rs 3,212 crore. LIC has seen overall death claims drop 34% to Rs 23,423 crore in FY23 from Rs 35,720 crore in the previous year.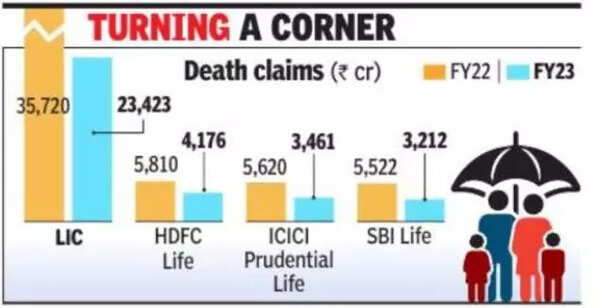 In terms of number of policyholders, Covid-death claims dropped 70% to 22,526 in FY23 from 77,222 in the previous year. A portion of the claim impact on these companies has been absorbed by reinsurance companies, who had raised rates in FY22 due to higher deaths.
On Friday, LIC had announced a ninefold increase in net profit to Rs 36,397 crore in FY23 as compared to Rs. 4,043 crore in the previous year. This increase was due to a change in accounting policy that transferred R 27,241 crore (net of tax), of the accretion on the available solvency margin that LIC moved from its non-participating fund to the shareholders' account.
LIC in its results presentation said that the protection gap – the difference between the life insurance protection required and the term cover sold – at 83% was among the highest among large economies.
LIC's non-participating fund has a surplus because of revenue generated over the returns promised to policyholders. As these are non-participating policies, the surplus is reckoned as the corporation's funds qualifying for available solvency margin, the insurance industry's equivalent of regulatory capital requirement in banking.
LIC chairperson Siddhartha Mohanty in a conference call on Thursday said that the corporation had seen a drop in first-year premium for a few months because of issues relating to the taxation of high-value policies and a drop in group business, which saw some setback in the fourth quarter.
"Our goal is growth with profitability and not to go for big-ticket just for the optics," he said. LIC officials said that the corporation had been careful in annuity business too as there were signs that interest rates would decline.
The corporation's embedded value, which stood at Rs 5.4 lakh crore on September 2021, rose to Rs 5.41 lakh crore as on March 2022 and currently stands at Rs 5.82 lakh crore. The most significant contributor to the increase of Rs 41,577 crore came from unwinding, which refers to the unwinding of the discount rate – the rate at which future cash flows are discounted. In other words, these are the expected returns on existing business.