LUCKNOW: It was an overwhelming moment on Friday evening for 26-year-old Divya Sikarwar when she checked the website of UPPSC and found her name at the top of the list of deputy collectors (sub-divisional magistrates). It was her third attempt. In her second attempt, she couldn't make it into the list by just 2 marks.
Divya gives credit of her success to her mother, who couldn't study because of a lack of opportunity, but ensured that her daughter's dreams were fulfilled.
"My mother is the biggest source of inspiration and strength. She never lost hope even after I failed in my earlier two attempts to clear the provincial civil services exam," said the topper who has an MSc degree in statistics from St John's College, Agra. She hails from Rami Gadi village of Agra's Etmadpur tehsil.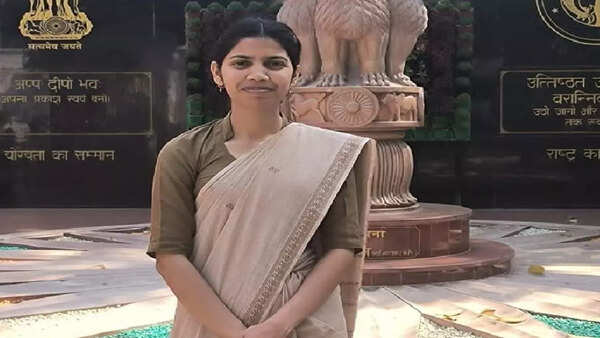 Speaking to TOI over phone, Divya said, "I want to uplift women and girls, especially in rural areas, as they have the least opportunities to grow. In fact, in the interview, the panel had asked me what I can do for such an underprivileged population — and I said the key is good quality education, vocational training and self-help groups for financial stability."
Divya's younger brother Deepak Sikarwar is posted in escort duty of Kasganj SP Saurabh Dixit, while the youngest brother Kapil is pursuing BSc.
"No doubt Divya's success is because of her mother. She was always there. I feel proud of my wife and daughter. My daughter brought laurels to the family and village, but it was my wife who helped her in that endeavour," said Rajpal Singh, who retired from BSF in 2012 and is now a social worker.
The family's prime source of income is farming.
Divya's proud mother Saroj Devi said, "I'm happy for my daughter's feat. She studied for hours and even took care of homely affairs. She will be a good officer."
After the declaration of results, Etmadpur MLA Dharampal Singh visited Rami Gadi village and congratulated Divya and her family.