Delhi Capitals
coach
Ricky Ponting
talks to TOI on the evolution of modern-day cricket, the decline of all-format players and the improvement in
Axar Patel
's batting…
NEW DELHI: When you see Delhi Capitals head coach Ricky Ponting doing a few fielding drills during a practice session, it doesn't seem like he retired a decade earlier. Ponting means business at all times when he is with his team. He sat down for a quick chat with TOI and made some crisp and pertinent points on modern-day cricket.
IPL 2023 SCHEDULE
|
IPL 2023 POINTS TABLE
Excerpts…
What's your take on
England
's ultra-aggressive brand of cricket…
I don't think it's the only way to play T20 cricket. In an ideal world, if you can play that way well and successfully then you are not going to lose too many games. It's not that England have won every game they have played and set world records in terms of the scores they have put up. You have to find a style of play that suits a group of players. That's what the art of coaching is. Whatever group of players that you have got, you have to maximise their talent. You can do that with their skills or you could do that with their attitude.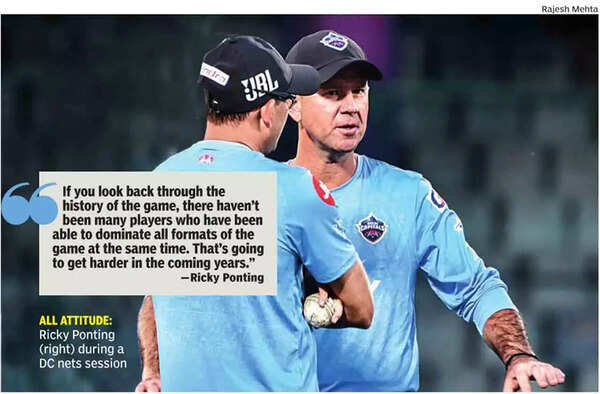 How much does culture have to do with the brand of cricket?
It's an attitude thing. You have to empower your players to play that way through good and bad times. If you look at England, they have done exactly that. Brendon McCullum, since he became the Test coach, said this is the group of players he wants and will back them to play a certain way. He doesn't care if they get out early.
Your Australian team too played very aggressive Test cricket…
Yes, a little bit. But it wasn't that premeditated. We had an aggressive mindset and wanted to score runs quickly. England may be scoring quicker but it seems it is a more premeditated approach to the game than what we had.
You suggested Warner may have to give up one format. How difficult is it to be an all-format player these days?
It's as important as the individual wants it to be. When I was coming to the end of my career, T20 cricket was starting to take off around the world. I made a decision to not play T20 cricket and focus on ODIs and Tests for Australia because there was a 50-over World Cup coming and I had to be the best player I could. I knew if I was going to play all T20s then something had to give. If you look back through the history of the game, there haven't been many players who have been able to dominate all formats of the game at the same time.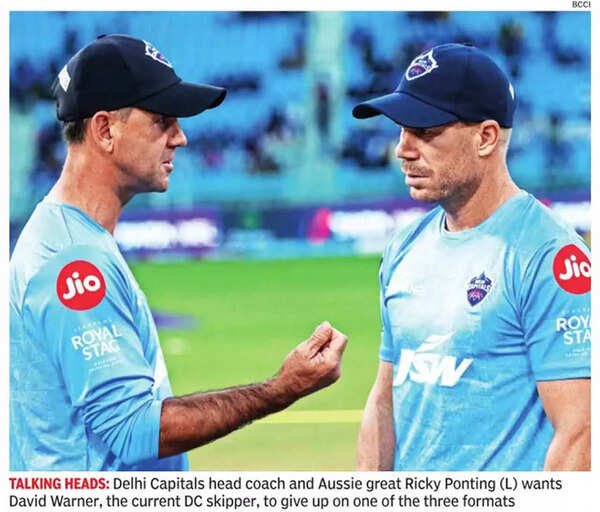 That's going to get harder in the coming years. Talking about all-format players, how do you see Axar Patel's evolution?
We have seen how much he has grown in the last couple of years. In the last 12 months, he has grown as a batter and India have shown enough faith in him to bat up the order. He was close to becoming the captain. He was vice-captain to Rishabh Pant here for the past couple of years. He is part of the family here. We really thought about it. Just a little bit of extra experience went David Warner's way. He has won an IPL for Sunrisers Hyderabad as captain. He started his IPL career in Delhi and he is a durable player.
He credits you for his batting…
I love to find technical areas where I can help players. I coached Axar when he was very young. I first coached him first when I was there with Mumbai Indians. He was a part of that squad. I knew he had batting talent. But if you look through the IPL, he didn't produce as per his ability. Then you try to break down the player's technique to find out why he hasn't been successful. We made small changes. I really had to sit back and show him a few videos and replays the ones where I wanted him to change a few things. He is a quick learner because he is a very thoughtful cricketer.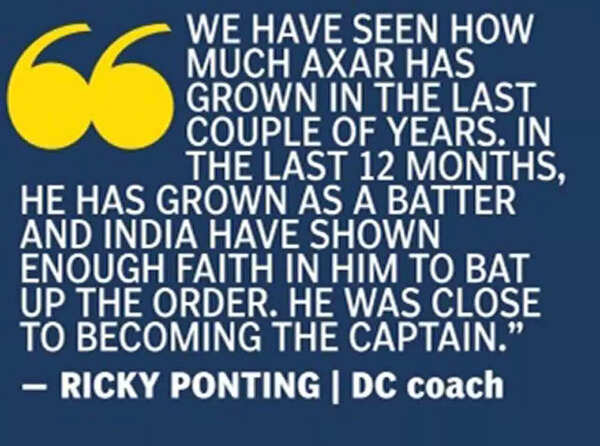 There's a lot of talk around workload during IPL. How do you see playing home-and-away after four years?
It's harder for the players. We have been in bubbles. It made playing a bit easier physically on the players. Sometimes you have to ease back on the training and focus on the recovery. The exciting part is that every team will be back at its home ground.