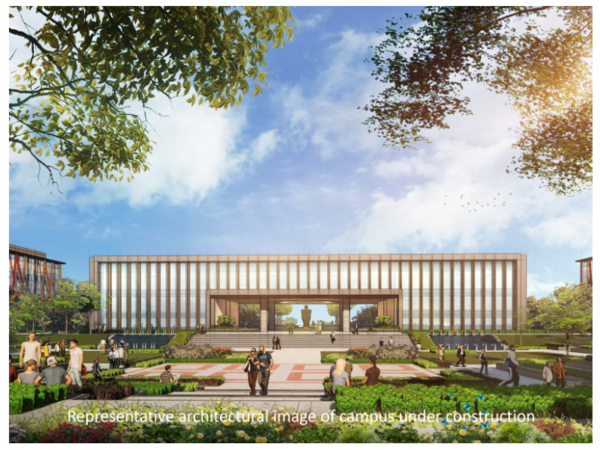 Draws on BITS Pilani lineage to offer a specialisation in Technology and Media Law
As the quantum of human experience that is "digitalised" grows by the minute, it creates complex and interconnected spaces for the law to intersect with technology. The need for protecting privacy amidst increasing data collection, regulating artificial intelligence (and autonomous vehicles and drones), tackling cybercrime, managing the ethics around biotech, investigating transnational financial transactions, understanding complex international merger transactions, and new legal frameworks for blockchain and cryptocurrency mean that demands on lawyers and the legal profession is going to be unprecedented. This is an area that the newly launched BITS Law School (BITSLAW) aims to prepare its students for. The law school draws on the lineage of BITS Pilani which has made a mark in the field of science and technology.
Both the five-year programmes – the BA LLB (Hons) and the BBA LLB (Hons) – offer a specialisation in "Technology and Media" for students who want to go deeper into this field. Over the course of five years, BITSLAW students will get the opportunity to learn Financial Technology Law, Metaverse and Law, Artificial Intelligence and Law, Cyber Crimes, Data Protection & Privacy Law, E-commerce Law, Music & Copyright Law, and Intellectual Property Law. The three-tier, student-centric pedagogy is designed with focused lectures by faculty, small group tutorials with peers and tutors, and hand on workshops with practitioners.
The school has a strong focus on interdisciplinarity, exposing students to a range of subjects that will help them understand this complex and rapidly evolving area. Students will build a foundation in the liberal arts covering subjects such as history, sociology, and political science that lay the groundwork for them to appreciate the ethical and moral aspects of how technology impacts society, culture, and governance. Students will also take courses in Constitutional Law, Contract Law, and Jurisprudence that will bring in the legal context and frameworks to approach these complex issues.
Prof (Dr) Ashish Bharadwaj, the Founding Dean of BITSLAW, said that "Our focus on the intersection of law and technology ensures that our graduates are equipped with the knowledge and skills necessary to thrive in an increasingly digital world. By offering a comprehensive and forward-thinking curriculum, the institution is well-positioned to produce legal professionals who can navigate the complexities of modern society and contribute to developing more effective legal, regulatory, and governance systems in India."
While the legal profession works on how society deals with technology, the practice of law itself is being deeply transformed by technology. Online platforms and legal databases such as SCC Online, Manupatra, Hein Online, and Indian Kanoon provide easy access to case law, statutes, and legal articles. They facilitate the process of legal research and allow legal professionals to stay updated on new developments. Legal document automation software help create templates and standardise routine documents, such as contracts and agreements, streamlining the drafting process and reducing the risk of human error. AI-powered tools are being used to review and analyse large volumes of data, identify relevant information, and even predict case outcomes. They can significantly reduce the time spent on research and analysis. The power and use of AI tools will snowball now with the advent of generative AI, such as OpenAI's Chat GPT. Electronic discovery tools allow lawyers to efficiently manage, search, and analyse electronic data relevant to litigation or investigation processes. E-filing is a growing trend, with the Indian judiciary increasingly enabling lawyers to submit documents electronically. The experiential learning model at BITSLAW is designed to train students to make the most of these technologies.
Based on inputs and recommendations from the power-packed Advisory Council of BITSLAW, the school also offers specialisations in Corporate & Financial Law, Entertainment & Sports Law, Alternate Dispute Resolution & Mediation.
Disclaimer: Content Produced by BITS Pilani