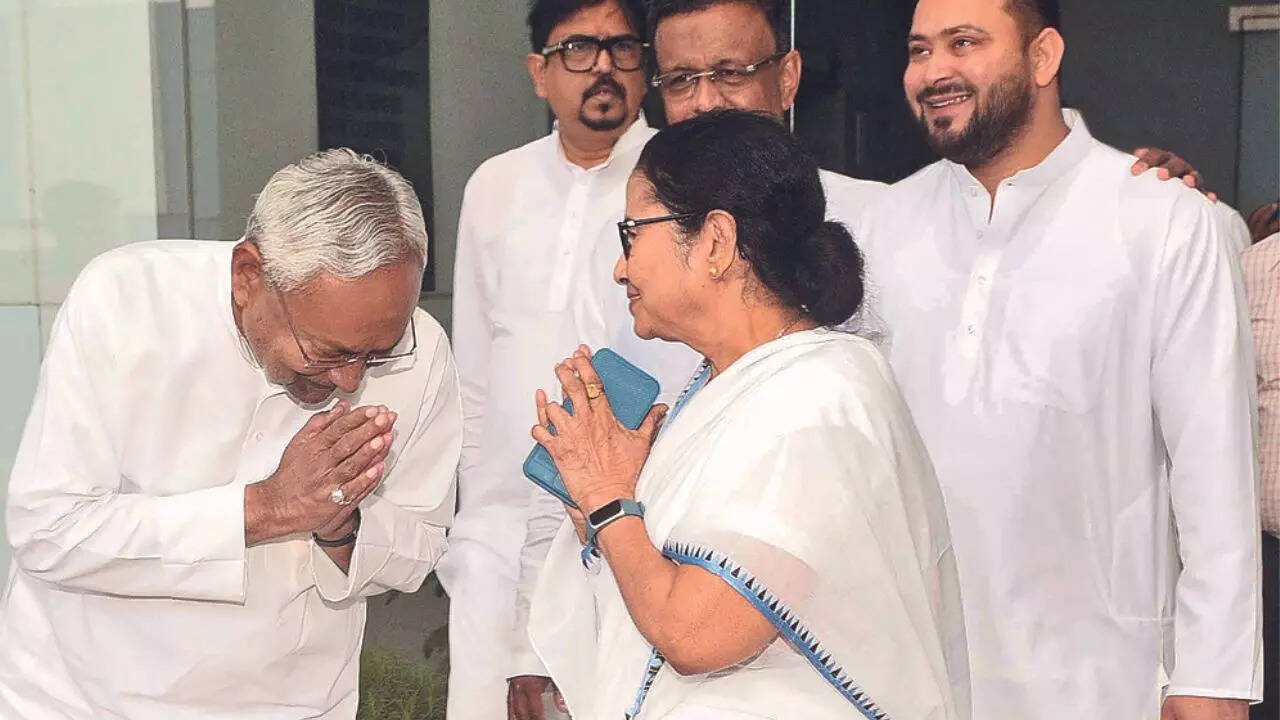 PATNA: Jan Suraaj campaign convener Prashant Kishor on Tuesday said Bihar CM Nitish Kumar would meet the fate of
Telugu Desam Party
chief Chandrababu Naidu who had started an initiative to unite the opposition parties but ended up losing power even in Andhra Pradesh.
Kishor made the statement while interacting with media persons at Patepur block in Vaishali district a day after Nitish met his West Bengal counterpart Mamata Banerjee and
Samajwadi Party
chief Akhilesh Yadav.
"Naidu was the CM of Andhra Pradesh in 2019. He was in the same role in which Nitish is trying to enter. Naidu was running the majority government at that time, while Nitish is running a handicapped government with mere 42 MLAs of his own party. Naidu was also uniting the opposition by touring the entire country. The result was that in Andhra Pradesh, the party's Lok Sabha tally came down to three. In assembly election, the TDP managed to bag just 23 seats. Nitish will also meet the fate of Naidu," Kishor said.
He added, "Nitish should worry about Bihar. He does not have his own place. The party which does not have its own base is trying to unite other opposition parties of the country."
Kishor, whose firm I- PAC handled the poll strategy of Mamata in West Bengal elections in March-April, 2021, took a jibe at Nitish-Mamata meeting, saying, "When Nitish went to West Bengal, he should have been asked if Mamata would work with Congress. Will Nitish and Lalu give even one seat to her party, Trinamool Congress in Bihar? Who knows Nitish in West Bengal?"
Kishor also took a dig at Tejashwi. "Tejashwi talked about providing 10 lakh jobs in the first cabinet meeting itself … Everyone knows he can't give 10 lakh jobs. Had Tejashwi not been the son of Lalu Prasad, he would not have got any job in the country," Kishor said.
Kishor did not spare the BJP as well, describing it as a "pichhlagu party" in Bihar. "The way the Congress supported Lalu by putting the future of the children of Bihar at stake, the BJP supported Nitish by putting the future of Bihar at stake. In 2020, the BJP was the largest party in Bihar but it did not take the responsibility to run the state. The BJP had supported Nitish to fix its equation, so that its MPs would go on winning at the Centre," Kishor said.